Next generation 20nm mobile processors to break the 3 GHz barrier
32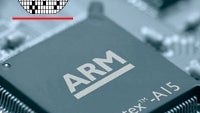 Just as
promised
, TSMC, which is likely
making Apple A7 chips for the iPhone 5S
as we speak, will apparently be ready early next year to start mass production with the new
20nm production method
, which will allow ARM-based chips to consume 25% less energy, yet have 30% more performance than the current generation.
What does it mean? It means that if the best representatives of the current crop of 28nm chipsets like the
Snapdragon 800
or the
Tegra 4
, can clock at 2.3 GHz per core max, then the 20nm chips that TSMC will churn out are going
all the way up to 3 GHz
, without sacrificing on power consumption.
In a nutshell faster and more frugal mobile processors will be ready for phone and tablet makers to put in their devices come early 2014, but you already could have guessed that much, couldn't you? The tipping point here is breaking of the mythical 3 GHz barrier, not that all flagship phones will be clocked at the maximum but it's nice to have options.