TSMC builds up Fab 14, the first in the world to make 20nm chips
7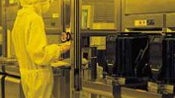 Just last week, we walked you through a
brief history of Taiwan Semiconductor Manufacturing Company
(TSMC), the chip foundry that manufactures the majority of world's mobile silicon, including Apple's A6 processor. TSMC is second only to Intel in market valuation, and could soon outgrow it with clients like Qualcomm and Nvidia, makers of the Snapdragon and Tegra chips.
And now, TSMC has started phase 6 construction of its Fab 14. Why is this important? Fab 14 is the fabrication facility that will be the
first in the world to start manufacturing 20nm systems on a chip
, and TSMC's first to kick off production of 16nm FinFET chips in volume.
The 20nm manufacturing technology will bring us the next generation of mobile devices. In 2012, we have just started seeing the first phones 28nm chips like the U.S. Samsung Galaxy S III and HTC One X, and 20nm will be a huge leap forward. We'd still have to wait until 2014 for those, though.
Fab 14 is a 12-inch (300mm) wafer plant that will further boost TSMC's current capacity. The foundry is said to be able to finally catch up with 28nm chips demand in the next one or two quarters.
source:
DigiTimes