Next-gen Samsung Galaxy Notes could use handwriting recognition to allow actions being performed from the lock screen
18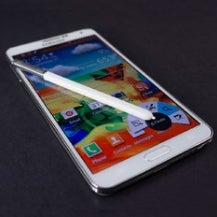 One of the things that made Samsung's Galaxy Note smartphones and tablets popular (and unique) is the S Pen stylus. Those who are already using a Note certainly know that features like Action Memo, Screen Write, S Note, Scrapbook, or Pen Window can come in handy quite often.
Samsung is - unsurprisingly - looking to bring even more S Pen-related features to its Notes. And one of them might be related to screen unlocking.
A recent Samsung patent application, no. US 20140038557 A1, describes a method of unlocking a screen only if the Note recognizes your handwriting. Of course, prior to doing that you have to "register" your handwriting. That's already implemented on the Note 2 and Note 3, which let you unlock the display with your signature. However, Samsung wants to take things even further, allowing its Notes to perform actions commanded via handwriting directly from the lock screen. For example, if the screen is locked and you write "call mom" with the S Pen, the device will unlock itself and immediately call your mom.
Could we see this feature on the
Galaxy Note 4
(which is expected to be announced in the second half of the year)? We can't know for now, but it would be pretty cool.
You can read the patent application in full at the source link below (if you're into lengthy and repetitive descriptions).
source:
USPTO