Next-gen Apple Watch to focus more on health and fitness
17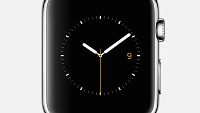 Even though the Apple Watch hasn't yet been made available to buyers, and won't be until 2015, already we are hearing rumors about the next-generation of Apple's timepiece. According to those familiar with Apple's plans, the next iteration of the Watch will include more sensors. and will focus more on being a device for health and fitness monitoring. Because Apple's plans for its next watch are not public, the sources asked to remain anonymous. They do expect Apple to offer "
richer health features
," with the next version of the Apple Watch.
So far, there isn't much about the Apple Watch that fitness bands can't do. The Watch can track your movements, monitor your heart rate, and play music through a Bluetooth headphone. Some analysts conclude that Apple stayed away from providing more medical capabilities for its Watch, so that it wouldn't have to ask for FDA approval. IDC Tech analyst Danielle Levitas noted that the device doesn't track sleep as rumored. "
I was expecting there to be some true healthcare applications that would take it a step further beyond wellness
," Levitas said. She did say that the lack of more health functions probably wouldn't be a deal-breaker for consumers.
"Apple probably is very intelligently positioning its products for use to maintain good health generally, which is a perfectly appropriate way to avoid FDA regulation. There are thousands of unregulated wellness applications on the market, so in a way Apple is joining a crowded field."-Bradley Merill Thompson, FDA specialist, FDA specialist, Epstein Becker Green.
Mike Lee, chief executive officer of MyFitnessPal, says that the sensors that Apple put in the Watch are not revolutionary, but are designed better than the sensors on competing watches. While one Doctor said that Apple loaded its wearable with "
cheap and consumer-friendly sensors
," others said that they would recommend the device to their patients once developers write more medical related apps for it.
source:
Reuters
via
AppleInsider