Next Samsung Galaxy Note to feature an even bigger, 5.9-inch screen?
44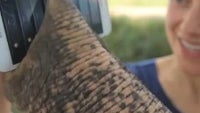 The
next Samsung Galaxy Note might feature an even larger, 5.9-inch display
, and it should be out in the second half of the year, according to an anonymous Samsung official speaking for The Korea Times.
''Samsung is working on introducing a new phablet using a 5.9-inch organic light-emitting diode (OLED) screen,''
the official said.
Interestingly, we've earlier heard suggestions that Samsung might make an even bolder jump to a 6.3-inch next Galaxy Note, but this new whisper writes that possibility off. The phablet will come with an octa-core processor, but is not very likely to feature Samsung's bendable displays we've been hearing so much about as Samsung is struggling with manufacturing.
The original Galaxy Note launched with what seemed a truly humongous 5.3-inch display late in 2011, and last year the Note II arrived with a 5.5-inch screen.
This however is really pushing the limits of pocketability. We have seen that there is big interest in phones like these that allow you to read easier, watch photos and movies in bigger sizes and enjoy an overall better media experience, so this seems like a logical move. Yes, and one more reason for most of us to feel like we have such small hands...
source:
Korea Times