Next Apple Watch to be called iWatch?
16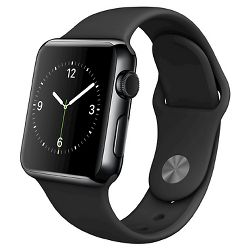 From the very beginning of the rumors that suggested that Apple was working on a watch, the smart money was betting that it would be given the moniker of Apple iWatch. And why not? Apple had become the most valuable company on Earth thanks to a succession of mobile devices using the "i" prefix. From the iPod to the iPhone and then the iPad, Apple had struck gold with this naming scheme. And even when another company held the rights, like Cisco did with the iPhone name,
Apple got its way at the end of the day
.
Apple even registered the iWatch name in several countries
, and had numerous filings at the USPTO. But when the time came to unveil the device on September 9th, 2014, most were stunned to hear it called the Apple Watch. Apparently, a company called OMG Electronics had filed to use the iWatch name in September 2012 for a timepiece that was being being funded on Indiegogo. But that failed. Seeking to raise $100,000 for its iWatch, OMG was able to raise just $1434.



Now, with the second generation Apple Watch expected to be unveiled on September 7th, it appears that Apple could be calling the device the iWatch. A trademark application filed in Asia for the iWatch name, was apparently accepted exactly one week ago from today. The original filing was made on June 3rd, 2013. That is, assuming that the documents are genuine.

According to Ming-Chi Kuo, KGI Securities' Apple analyst, there will be two different versions of the new Apple Watch. Neither will have stand-alone cellular connectivity, which means the timepiece will still need to be paired to an iPhone. The premium model will feature GPS and a barometer. Both new models will have improved waterproofing, an improved battery life, and a faster processor.

Will calling the next Apple Watch the iWatch make it sell better? Will Apple even decide to make the name change? All will be revealed a week from tomorrow during Apple's September 7th event.


source: Telefoonabonnement.nl (translated)