New smartwatch is "Hot"
23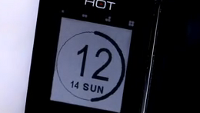 Following in the footsteps of the Pebble watch, a new smartwatch is seeking funding on the Kickstarter site. The
Hot Watch
out of Dallas, has some rather big shoes to fill as
the Pebble smartwatch raised a record $10 million of crowd-sourced funding
on the Kickstarter site before launching. The Hot Watch claims to have more capabilities than its competitors when it comes to some functions such as making calls, sending and receiving emails and keeping in touch with the pulse of your social networks.
Similar to the Pebble, the Hot Watch offers a 1.26 inch Sharp produced E-paper multi-touch display and a Cortex M3 processor. A secondary processor handles other chores like Bluetooth and the call controls. Speaking of Bluetooth, the watch uses Bluetooth 4.0 to connect to any handset that offers such connectivity. The developers of the watch say that despite this, the Hot Watch connects best with an iOS or Android flavored phone. The watch is water-resistant and will support OTA updates.
The Hot Watch is designed in such a manner that holding it up to your ear will help amplify a call allowing you to converse in private. And if needed, you can always turn on the speakerphone. The Hot Watch is crammed with features pre-installed like a pedometer and will alert you when your phone is out of range giving you an early warning that it might be stolen.
Thanks to the SDK that is available for the watch, developers can make new faces and new apps for the watch. Calls can be answered, ignored, dialed and muted using gestures. Sensors in the watch know if you've fallen down and can't get up. The watch gives you 30 seconds to respond before calling for emergency help. And gestures can also take you from the lock screen to an active screen. For example, if you write a "D" on the lockscreen, the Hot Watch takes you to the dial screen.
On Kickstarter, with 37 days remaining for Hot Watch to reach its $150,000 funding goal, the company has raised over
$60,000
. The basic version of the phone is expected to retail at $169 or more but for $109 you can help fund the project and receive a Hot Watch which is expected to ship on December 23rd, just in time for the holidays.
source:
HotWatch
via
TechCrunch