New smartphone buyers picking Android over iOS by 2 to1 margin says Nielsen
99+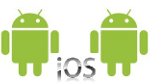 While we are on the cusp of the launch of the next-gen Apple iPhone, stats released by Nielsen show that the
Android OS continues to dominate in the States
. 43% of U.S. smartphone users were using an Android phone in the U.S. as of August, up from 40% the year before. Behind Android was Apple's iOS with a 28% slice of the smartphone pie. That figure is unchanged from last August. RIM's BlackBerry OS followed with 18% while the "others" category had 11% of U.S. smartphone owners.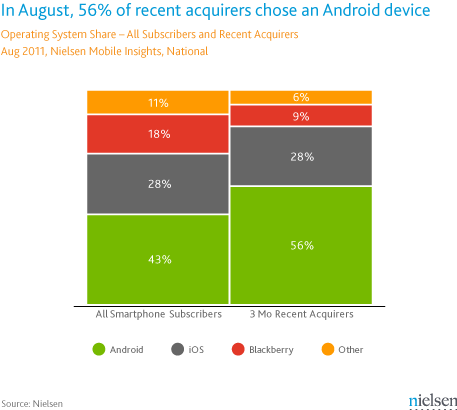 Nielsen's survey's show Android in command of the U.S. smartphone market
Perhaps more interesting
is the current buying habits of those who have purchased a new smartphone over the last three months
ending in August. 56% of those buying a new smartphone from June through August selected an Android flavored model. 28% of those new smartphone buyers purchased the Apple iPhone while the BlackBerry OS and the "others" category accounted for 9% and 6% of new smartphone purchases during the three month period, respectively.
With
the next-generation Apple iPhone expected to be introduced October 4th
and launched not too long afterward, those numbers could change a bit as we head toward the end of the year. Of course, Android has some anticipated high-end units also due out soon,
like the Google Nexus Prime which could be released on November 3rd
, as we told you. As for RIM, it might not be until early next year, when the company is expected to
deliver on its QNX flavored Superphones
, when we might see an improvement in the Canadian manufacturer's share of the U.S. smartphone market.
source:
Nielsen
via
DroidLife