RIM said to be working on QNX powered Superphone as its 'Hail Mary' pass
10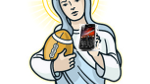 You have to wonder if desperation turns phone developers into
geniuses
. With time running out on Palm, the
Palm Pre is introduced at CES in January 2009
along with webOS. Motorola also is about to be a name of the past but the company
pulls the Motorola DROID out of its hat
and the
Android Invasion begins
. Nokia, dropping to third from its perch at number one in the global smartphone rankings, where it sat for 14 years,
introduces the MeeGo powered Nokia N9 to applause
. Now comes RIM with a
stock making new lows,
executives leaving the company, and earnings below expectations, needing a miracle. And yes, BlackBerry fans, there could be a
miracle in the making
.
According to sources for N4BB, RIM has stopped production of a 10 inch PlayBook and instead, is developing a
QNX powered 'Superphone'
. This model is expected to have a 4.3 inch screen with resolution of "900+", although we're not really sure what that should mean. Under the hood will be the same single-core 1.2GHz processor that will be in the upcoming BlackBerry Bold 9900. RIM had considered a dual-core processor to be a battery killer, although it is not too late for them to change up to a dual-core chip. Sound good? With a 10 inch BlackBerry PlayBook said to no longer be worked on, RIM will push out the 4G LTE version of its 7 inch PlayBook in October, according to the source.
BlackBerry fans have been hoping that a
QNX powered phone
would be coming soon. And now, as the clock ticks down to a precious few seconds, here is another manufacturer throwing a
Hail Mary pass
with the game on the line.
source:
N4BB
via
Engadget
Recommended Stories