New set of iPhone 5 front assembly pics reveals a possible NFC chip setup
11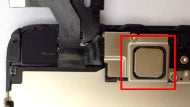 Another purported front panel assembly leaked for the next iPhone, which includes what is looking like an NFC chip, has leaked from another anonymous source.
During the iOS 6 unveiling Apple showcased its new Passbook app, which serves as a hub for credit, debit, store and gift cards, movie tickets, and so on, so the NFC chip makes perfect sense to start establishing Cupertino's own mobile payments network.
Google has its
Wallet
undertaking for Android devices, but its scope has limitations, whereas the inevitable multimillion sales of the sixth generation iPhone will bring in a lot of similar devices with mobile purchasing capabilities, so that vendors start paying attention.