New rumor puts 12.9-inch iPad in late 2014, iWatch delayed
19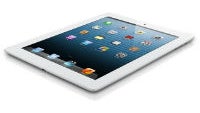 The rumors that we've been hearing pretty consistently for quite a while now is that Apple is planning to release a larger iPad early next year, with the specifics pointing to March. But, a new rumor is saying that the
12.9-inch iPad
might not be released until later in 2014. The new info comes from
DigiTimes
, and is saying that the larger tablet will be targeted at education and enterprise markets.
The news is that Apple has chosen Quanta Computer to manufacture the larger iPad, and that the device will be going into mass production in the second half of 2014. Additionally, Inventec, Quanta, and Foxconn Electronics are all competing to win the bid for the iWatch production.
DigiTimes
sources are saying that because the size of the iPad isn't exactly a "the mainstream specification", the tablet is expected to be built in limited quantities.
The report also says that the pilot production runs for the iWatch have had low yields, so mass production of Apple's smartwatch has been delayed until the second quarter of 2014. That would mean the iWatch wouldn't hit the market until later in the year, but no one expected to see the iWatch until next fall at the earliest anyway.
Given the functionality available on the iPad, we're certainly curious to see how Apple markets a larger version. It certainly seems like the perfect device with which to enter the hybrid laptop market, and maybe even end up
replacing the MacBook Air
.