Apple may be developing an ultrabook challenger, is a 12.9-inch iPad Maxi in our future?
21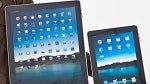 If this rumor turns out to be true, Apple will need to be a tad careful coming up with a name for a larger iPad. We can safely assume that iPad Maxi will not make the short list, and it stands to reason that Samsung would take issue if it were called the iPad Mega.
All that aside, Korean news site, ETNews, is reporting that Apple is indeed working on a larger sized tablet to challenge ultrabooks. The new supersized tablet might launch as early at the first half of 2014.
Of course, such a move would not shock us, not after Apple released the "perfect size" 9.7-iPad, only to followed by the iPad mini last year. Possible specifications of the larger iPad have not been speculated on, but we wonder if an iOS tablet can compete with an ultrabook running a full-speed operating system like Windows.
Also given Apple's penchant for using premium materials, such a device would have to contain a number of compromises to contain costs in order to effectively compete. Another possibility is that Apple could be creating a tablet form factor running OS X that has been optimized for touch.
While competing with Ultrabooks, this iPad size might also provide appeal in market segments where Apple wants to develop and maintain its loyal following: education. With a screen that is closer to laptop computers and containing the Apple experience, it might be able to brew the right combination of appeal for students, teachers and publishers of digital text-books.
We can only hope that if this hardware is in the pipeline, and if it is destined to be an iOS device, that Apple will have done something drastic with the iOS user experience by then, because having a grid of static icons on a 12.9-inch display will be an awful waste of space.
source:
Latinos Post
via
IntoMobile