Is Apple planning to replace the MacBook Air with a 12.9-inch iPad Air?
24
This article may contain personal views and opinion from the author.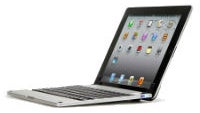 There have been fairly consistent rumors that Apple has been working on a larger version of its signature iPad tablet, and those rumors simply won't go away. The general rumors have put the larger version of the iPad in the 12-inch range, and earlier this month we heard that Foxconn is already working on a
12.9-inch iPad
, which a new report seems to confirm.
The
12.9-inch
number has been bouncing around since May, and it seems to be getting closer and closer to true. The latest comes from
The Korea Times
which says that "Apple's local first-tier display supplier is now producing a 12.9-inch Retina display to be used in the new iPad, which will be coming out sometime early next year." Recently, we had heard that Apple was aiming for a March 2014 release for the larger iPad.
There were also rumors surrounding the iPad Air release that claimed Apple was working on a
keyboard cover
similar to those that accompany the Microsoft Surface. Those reports didn't come to fruition with the latest iPad release, but would certainly fit in with the release of a larger 12.9-inch iPad. Especially given that back in April we saw a patent from Apple which seemed to indicate that the company was at least testing out different options for a tablet/laptop hybrid.
A new Apple form factor
At the time, I couldn't help but wonder if it were only a matter of time before Apple released what I decided to name the
iPadBook Air
. I had no idea at the time that Apple was planning to change the name of the 9.7-inch iPad to the iPad Air with the latest release. It just seemed to be the logical meeting point between Apple products. At some point, the iPad was going to bump up with the MacBook Air, and it's looking like that time is coming in the spring.
It seems to be basically confirmed that there will be a 12.9-inch iPad released, and it seems reasonable to assume that a tablet of that size would almost require a keyboard cover accessory, because holding something that size would get awkward even if Apple can work its magic and get the weight down. But, the question comes because Apple doesn't like to overlap its products, because that causes confusion for the customer. Apple has always kept its product line small to make it easier to get customers what they want. That's why older models of Apple products are retired so often, it keeps the choice down to a few specific price points and that's it.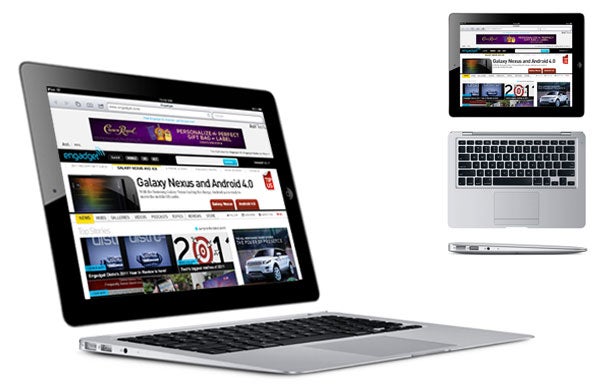 The functionality gap between the 9.7-inch iPad and the entry-level 11-inch MacBook Air has kept there from being any real overlap between those products so far; but, if the iPad is going to push into the 12.9-inch space, that could point to bigger changes. Beyond the larger screen size and the rumor of a keyboard cover, Apple's push to bring
iWork and iLife
to the iPad plays a big part in this equation, as does a comment from CEO Tim Cook himself.
During the most recent Apple quarterly earnings call, Tim Cook
confirmed that Apple
would be launching new product categories in 2014. The initial assumption was that he was referring to the iWatch, which is expected next year. But, that comment could just as easily apply to a tablet/laptop hybrid. We haven't really seen Apple trying to converge iOS and MacOS at the system level like we have seen with Windows and Ubuntu, but Apple has been working towards convergence at the app level.
Power vs need (aka the Chromebook argument)
While iOS may be more restrictive than MacOS, the vast majority of users don't really need the higher-end apps. It's the same argument as a Chromebook (of which I've long been a proponent). Sure, there is a small subset of users that need the power and flexibility afforded by a full operating system like Windows or MacOS; but, 90-95% of users live in a browser and maybe only need a few extra things. Chromebooks are still finding their way because the web is still maturing as a platform, but the iOS App Store doesn't have a lot of gaps in it. Most of the functionality you may need can be found in an app already. There was a bit of a gap with productivity, although Google Drive works quite well on iOS and there have been consistent rumors that Microsoft Office is on the way as well.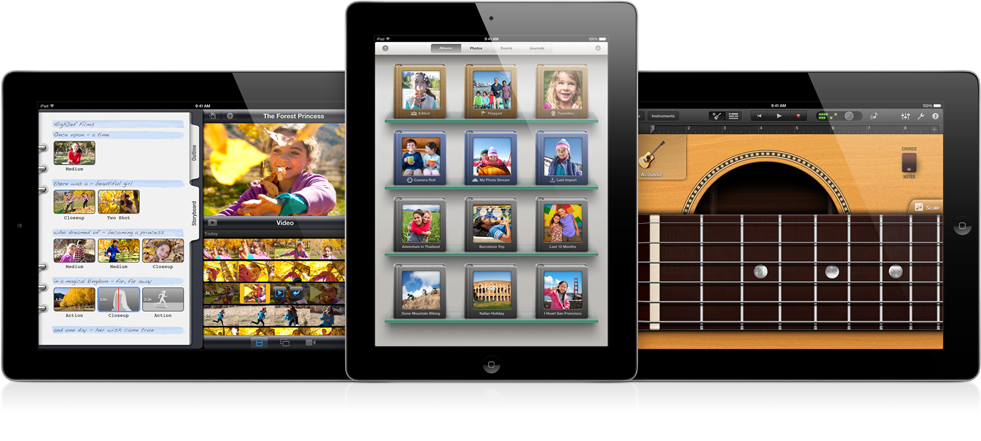 But, there are also the Apple options. iWork for the iPad works quite well, and it seems safe to assume that it would be a focal point of any iPadBook Air type product. On the other side is iLife, which covers another big swath of the usual complaints when it comes to ditching a so-called "full" operating system. There are always a good number of users who complain that they won't have access to video, music, or higher-end photo editing tools. Again, an iPad hybrid won't be a high-end replacement, but it should certainly work quite well for the average vlogger given the quality of iMovie for iPad.
The last question is always with games, and on that front once again, an iPad will never replace a proper gaming rig, but as we've seen with titles like
Infinity Blade, The Drowning,
and
Dead Trigger
, there are some high-quality options on tablets these days. Apple has done well to push its platform as a gaming platform and has attracted a good number of developers in the process. Add in the possibilities of a keyboard accessory, and that potential only grows.
The only other issue that would be up for debate is connectivity. iPads historically have spurned the addition of any standard connector ports like USB, but if Apple is really going to push into a tablet hybrid form factor, that would be a must. Although, I wouldn't expect to see it on the 12.9-inch iPad itself, it would be hard to imagine Apple doing this and not putting a USB port on the keyboard dock.
Conclusion (and pricing thoughts)
In the end, it doesn't seem that far fetched that a larger iPad with a keyboard dock could completely remove the MacBook Air from Apple's product lineup. Apple's marketing for the iPad is already saying that it can do anything and everything that you would want and it covers many use cases that would normally fall under the purview of a laptop. The question would be in the pricing and storage capacity.
The 11-inch MacBook Air starts at $999 with 128GB of storage, and the 13-inch MacBook Air starts at $1099 for 128GB of storage. More storage bumps the price by $200 on MacBook Airs, rather than the $100 bump on each tier of storage for iOS devices. That's about the same price range as you would expect for a Microsoft Surface 2 with a Type Cover or a Windows convertible like the Lenovo IdeaPad Yoga 13.
A 128GB iPad Air will set you back $799 for Wi-Fi only or $929 for an LTE model, so if an iPad hybrid started with 128GB of storage (which seems reasonable), it wouldn't be out of the question to see it priced in the $999 range for Wi-Fi only without the keyboard cover. At that price point, storage capacity, and display size, there wouldn't really be any room for the MacBook Air in Apple's lineup. Apple apparently sees the future is brighter for iPad, and that could mean disaster for the MacBook Air.