New pictures of the LG Optimus G Nexus leak, plus specs and a camera sample
36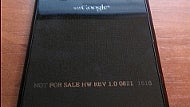 The
Optimus G Nexus
keeps on
slipping through the NDA cracks
, and today we have another batch of clear photos showcasing the device with its rounded Nexus-y shape, which is quite different from what we saw when
LG invited us to check out the "real" Optimus G in Korea
.
An XDA-Devs member leaked the pictures below, and also spelled out the specifications, confirming what we know so far, and, unfortunately, the fact that he didn't see a microSD card slot along with the device.
We say unfortunately, since he checked, and the device has just 8GB of internal memory, rocking it like your average midranger these days.
CPU: core quad ARMv7 1.5GHz
RAM: 2 GB
Memory: 8GB (and I haven't found SD slot)
GPU: Adreno 320
Android version: JellyBeanMR1
Kernel 3.4.0
Screen: 768x1184 (320 dpi)
Camera: 8 MP
Google apparently wants its Nexus stable to be more reliant on cloud storage than manufacturers themselves usually do, but let's see a launch announcement and pricing, and then we'll talk whether 8GB is decent or not, since it might have just wanted to keep the device affordable.
A NenaMark 2 bench appeared as well, confirming the HD+ screen resolution, and the powerful Adreno 320 GPU, so we can sleep tight knowing that we are covered in high specs comfort with the Optimus G Nexus.
There was also a camera sample, which is just someone's ball of spaghetti, but reveals the camera capabilities for the first time since we tested the 13MP module in our hands-on with the Optimus G, which is the bigger brother of the 8MP one in the LG Nexus.