New orders for the HTC Droid Incredible won't ship until August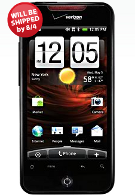 Samsung's problems producing AMOLED displays is the main reason why Verizon has such a massive back order for the HTC Droid Incredible. Samsung is apparently working hard to produce enough screens for third party manufacturers and for its own devices, but when push comes to shove, the Korean based firm is grabbing up most of the displays for itself. The Samsung Galaxy S has been
introduced for all four major U.S. carriers and two regional operators
and Samsung needs all the AMOLED screens it can produce, for itself. As we
reported
, HTC has announced that its models that use AMOLED screens will switch to the Sony Super LCD TFT display later this year. Until the Taiwan based firm can build up enough inventory of handsets using the new screens, it will satisfy orders by shipping whatever inventory of the AMOLED screen featured devices it can find and that is why any new orders for the Droid Incredible taken on July 6 won't ship until August 4. By then, Big Red will have had the Motorola DROID X on the market for about 3 weeks. With a larger 4.3 inch screen and a sturdier build, the DROID X allows Motorola to reclaim the Flagship title for Verizon that it had lost when the first-gen DROID had been overtaken in spec's by HTC's phone. Because of the delay in shipping out the Droid Incredible,
Verizon is sending a letter of apology and a $25 gift card
to those who ordered the latter device and are allowing them to switch to a pre-order for the DROID X, which should launch July 15th.
According to Verizon Wireless CEO Lowell McAdam
, if not for the shortage of AMOLED screens, the company could have sold twice as many units of the Droid Incredible than it has.
HTC Droid Incredible Specifications
|
Review
Motorola DROID X Specifications
|
Review
source:
Verizon
via
electronista