New leaked images of Nexus 5 and Kitkat 4.4 show payments built in and more
14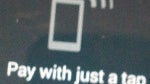 Android 4.4 KitKat and the
Nexus 5
just can't come soon enough. We're drowning in a sea of rumors and leaks, and this time we have a revelation about a built-in payment system in Android. The leaked images, allegedly showing the upcoming Nexus 5 running on Android 4.4 KitKat, come from Italian blog TuttoAndroid.
On to the interesting stuff, the most exciting new features we find in settings in Android 4.4 is called "Tap & Pay" and allegedly should allow paying for stuff via NFC. It's not clear whether it'd indeed be in the final version of Android, but it's obvious that Google is working on implementing this in the near future.
Once again, we see the new location options. You can select how your phone tracks your location selecting between three modes, one that is most accurate and consumes the most battery, and another one that saves battery.
As to the actual Nexus 5 device, the source who held it describes it as 'very light, which is usually something "bigger" also weighs more, but this Nexus not, and is slightly higher than the Nexus 4. The design is identical to the leak and specifications are confirmed. The rear part is rubber type."
Right below are the details about the software build and kernel:
Nothing exactly shocking, but once again, we get to see what the upcoming Android 4.4 will look like. We've been hearing about official release happening on October 15th, in just a few days, but nothing is official just yet, so stay tuned.
source:
TuttoAndroid
(translated)