New info on expanded Groups features in WP8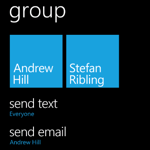 The leaks are coming fast and furious for Windows Phone 8 these days. First we saw a lot of information about a
variety of new features
in WP8, we heard about possible
dictation coming
to the platform, and now we are hearing more about Groups. For those of you who aren't too familiar with Windows Phone, Groups are part of the People app, which is one of the best parts of the platform. The People app is what Android's People app wants to be, but isn't. People brings together all of your contacts and links their contact data with data from Facebook, Twitter, LinkedIn, and Windows Live, giving you real time updates and easy contact access for everyone.
By organizing your contacts into Groups, you can easily see updates from social networks, send mass texts, or mass e-mails in WP7. Windows Phone 8 looks to be expanding on that functionality by bringing back our old friend from the 90s: chat rooms. This info was pulled from a dll file found in the WP8 SDK:
Gather your friends and family together. Invite them to a private Room where you can share a calendar, photos, group chat and notes. Or add them to a Group to see social updates from just those folks and text them all at once.
The "private room" idea is a pretty interesting one, and one that could be pretty useful... as long as it doesn't require everyone to have a Windows Phone. We don't expect Microsoft to lock it in like that, but group chat will need some sort of common platform, so it would make sense if everyone has to be on Facebook or Windows Live. The private room idea actually sounds a lot like what Google is doing with Hangouts, just without the killer feature of group video chat, but Microsoft does have Skype which can do group video, so we'll see. We're definitely excited to hear more about this.