Windows Phone 8 may have dictation in some apps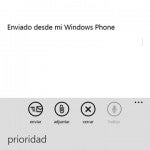 We've been seeing bits and pieces of what to expect from Windows Phone 8 when it is finally released in a few months. We knew about Internet Explorer 10, and other features, but we're just hearing about a much wanted new feature that could be included: dictation.
Dictation is a feature that has become something of a standard for mobile platforms because more efficient text input options are one of the major
ex-Nuance talent
. Microsoft has voice search in Windows Phone, and has planned expanded voice commands in WP8, but until now we hadn't seen anything about dictation. Those playing around with the Windows Phone 8 emulator saw that there is a new option labeled "talk" in the e-mail app. It's disabled in the emulator, but is expected to be fully working when it hits phones.
The only question here is how extensive the dictation options will be. Other screenshots haven't shown the option in any other text fields, and we haven't seen the QWERTY keyboard for WP8, just the rumored
radical slanted keyboard
, and even that didn't have a dictation button that we could see. It's possible that this dictation will only be available in the E-mail app, or maybe just E-mail and Messaging. As yet, we don't know.