New iPhone to offer video chat?
This article contains unofficial information.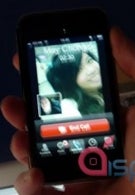 Now, on the eve of what many expect to be the announcement of a new iPhone, photos of what is supposed to be the new model have been seen and the latest pictures show a front facing camera on the device. That, by itself, would mean nothing except that we now have seen snaphots of what appears to be a video chat in progress on the handset. And yes, it looks like the phone is using Wi-Fi during the conversation. Yesterday we
reported
that a new iPhone model to be introduced Monday would be called the iPhone Video. That name would dovetail perfectly with a new version of the phone that had the ability to offer video chat.
While the pictures don't show much difference between the alleged new model and the iPhone 3G, the bezel is blacked out on the leaked photos and the Apple on the back cover might "glow" when the phone is turned on.
If a new iPhone had a video chat function, would it be enough to stop the progress of the Palm Pre just a few days after the latter was launched?
source:
NowhereElse
via
IntoMobile
The new iPhone is now officially announced - you can check the
Apple iPhone 3G S Specifications here
.