New iPhone OS kicks T-Mobile users in the apps
This article contains unofficial information.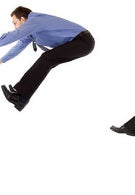 If you are using an unlocked iPhone 3G or 3GS over T-Mobile, you probably will be better off NOT downloading the new OS
3.1
.3. This is because Apple has put the screws to T-Mobile customers. The new OS creates issues with T-Mobile's network. For example, some 3rd party apps might fail to launch (Cupertino, we have a problem), furthermore, upgrading top the new OS would upgrade your baseband to 5.12.01 which would make it impossible to unlock the iPhone and use it on T-Mobile's network. Owners of the first-gen iPhone are not affected and can still upgrade to the new OS without affecting a T-Mobile connection. One day last week, we reported that the iPhone rumor of the day was that the device would be heading to T-Mobile by the summer. There's a solution to the problem that we're sure the carrier's customers could live with.
Apple iPhone 3GS Specifications
|
Review
source:
TmoNewsForum
via
TmoNews