New iPad won't charge while in use, charger to blame
39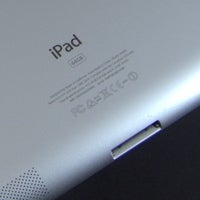 That new
iPad
right there may be one pretty sweet tablet, but it surely isn't perfect. As it turns out, the thing is a power hog, and the
increase in operating temperature
is not the only result of that.
When the iPad is under heavy load, its charger is unable to charge its battery
, as reported by a number of iPad owners on the Apple Support Communities web page.
The reason for that is far from complicated: in order for a battery to charge while the device is in use, the charger needs to deliver at least slightly more power than what the device is consuming - the more power that is provided, the more efficient the charging process would be. For example, that is why a MacBook Air comes with a charger that can deliver four times the power that the device actually consumes. And it seems like the iPad's stock 10W charger simply cannot handle the load of an iPad that is being pushed to the maximum. USB ports that supposedly should be able to handle the device's power needs do not seem to work either.
So, iPad owners, are you having troubles charging your new tablet, or is it working just fine for you? Feel free to share your experience with us by dropping a comment below.