New estimate using free game downloads suggests 429,000 BlackBerry PlayBooks sold
5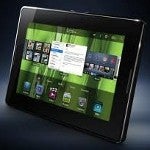 The other day, when
RIM reported its Q1 earnings
, the company said that it had sold
500,000 units of the BlackBerry PlayBook
. This figure was a rare positive for the Canadian based firm, although there was some question about the choice of words used by the manufacturer. RIM said that of that figure, 200,000 was
sold into distribution channels
and
250,000 to 300,000 were sold directly to end-users
. The main question is, how many of the devices sold to distribution channels ended up in the hands of end-using buyers and how many are still collecting dust in the backroom of a store.
A more precise way of measuring sales was put forth by Ebscer, the developer behind free PlayBook game Pixelated. Using the number of free downloads of Pixelated, Ebscer
extrapolated the figure
to estimate that 429,000 units of the BlackBerry PlayBook were sold as of the June 15th date of Ebscar's post. Although the game developer admits that some of this figure is based on assumptions and guess work, considering that Pixelated is one of the top ten most popular downloads on RIM's tablet, Ebscer says that he has
more accurate data
to work with than most when making an estimate of PlayBook sales.
While we have to be clear that this is just another estimate, it might be a more realistic way of coming up with a figure. If the BlackBerry PlayBook did sell 429,000 units up to June 15th, it would just be another number coming in slightly
under expectations
for RIM which has been what life has been all about recently for the BlackBerry manufacturer.
source:
Ebscer
via
BlackBerryCool