New app for Android allows you to create and send text without touching your phone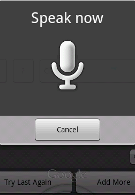 While driving and texting has become a major issue, many companies in the cell phone industry have been brainstorming to find a way to allow a driver to safely compose and send out a text message while concentrating on the road in front of him/her. And while many cell phone manufacturers have added applications that allow the user to speak out a text message, these programs still require the driver to have a hand on his phone to push a microphone icon or to actually disseminate the message.
Using a code name, you wake up your phone and follow the vocal prompts. The service also will read incoming text messages to you. The app can also record messages to yourself that can be stored on your handset for later playback.
While Adela eventually plans on offering the service to manufacturers and third party developers, right now the app is free. A premium version will be available soon that users will be charged for. "StartTalking" is now available for Android flavored devices and the company says that it is working on making versions for other platforms.
source:
AndroidGuys