New ad shows you how the Samsung Galaxy Gear can help you get the girl
20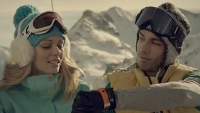 After you watch this pretty long 2 and a half minute video ad for the Samsung Galaxy Gear, you might never think of a smartwatch in the same way again. Who would ever have thought that the timepiece would be able to help you snag the girl of your dreams. In the ad, there are three main characters. There are two guys, one with just a smartwatch and the other with a
Samsung Galaxy Note 3
and a Galaxy Gear smartwatch. And then, there is the girl.
Yeah, Jack wins the affections of Aimee because he can take pictures of her snowboarding with his Galaxy Gear (although some might have considered it stalking), find his dropped phone using the timepiece and order the Wine of the year using information gleaned from his watch. For his last move, we see him alone with the girl using his watch to play music over his Samsung phablet.
The loser? The poor guy who just has a smartphone from a unknown manufacturer. First, he drops his phone on the ski lift, and ends up breaking a wine glass trying to fish for his phone from a pants pocket. Bottom line? The Samsung Galaxy Gear makes you look 42% cooler, 22% taller and makes sure that 100% of the time you get the girl.
source: Samsung via
SlashGear