New York museums banning selfie sticks
23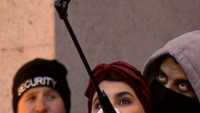 It sounds like a scene from a comedy. A man visits a museum sporting a selfie stick. After snapping a selfie standing next to the remains of an ancient dinosaur, our hero turns around too quickly, hits the bones of the dino starting a domino-like crash. While that hasn't yet happened, it is the scenario that curators fear and is the reason why major museums in the Big Apple and elsewhere have banned selfie sticks from the premises.
Don't think that such a major tragedy can't happen. One museum visitor told a reporter for New York's WCBS that he witnessed a man's selfie stick come within a hair of taking out an entire dinosaur exhibit. In New York, the devices are now banned at the
Museum of Modern Art
, as well as the
Cooper-Hewitt, Smithsonian Design Museum
. The Metropolitan Museum of Art is considering such a ban, which would match the decision made by other museums across the country. "
You can, just by looking at this, imagine the havoc a selfie stick might wreak in this kind of space
," said Jennifer Northrup of the Cooper-Hewitt, Smithsonian Design Museum.
A gentleman named Andrew DeLango said he almost witnessed a huge disaster when someone used a selfie stick just inches away from a dinosaur exhibit. "
He could have knocked everything down, he could have been taking a selfie, then he hits one of the ribs
," DeLango said.
What about those patrons of the arts who go to visit museums with their smartphone in tow? If you're visiting a museum, or even a china store, your best bet is to take selfies the old fashioned way. You know, the way they were taken in the old days of 2013 before the stick was launched.
source:
CBSNewYork