New York Attorney General investigating T-Mobile for false advertising
24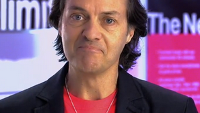 Is a 24-month equipment installment plan actually a two-year contract in disguise? The New York Attorney General's office will have to figure this out as it has started investigating claims that T-Mobile has been engaging in false advertising. A consumer organization called Change To Win says that 91% of T-Mobile customers are actually stuck with two-year loans, paying monthly for new phones.
T-Mobile was the first of the major carriers to do away with subsidized handsets
, which use to lock customers into a two-year service contract. The equipment installment plans used by T-Mobile to replace subsidized phones soon became available from other major carriers, with customers making monthly payments over 24 months.
According to USA Today, a letter complaining that T-Mobile uses "deceptive marketing and abusive debt collection practices" has been forwarded to the Consumer Financial Protection Bureau. The agency is responsible for the oversight of financial products for consumers. The letter complains that T-Mobile customers who stop paying before the 24-month EIP has ended, could find themselves in debt collection "with little or no notice."
"We ask T-Mobile to reform its own practices by no longer using the misleading language around no contracts. We ask that it stop claiming that it pays customers' early termination fees."-Nell Geiser, research director, Change to Win
The latest fad in the industry is leasing, which T-Mobile uses for its JUMP on Demand. By offering subscribers the opportunity to lease a new phone for 18 months, operators like T-Mobile can offer customers the opportunity to use a popular handset, and upgrade it up to three times a year. Once you find a phone you want to keep, you have to pay T-Mobile the remaining balance left on the retail purchase price of the device.
We are pretty sure that outspoken T-Mobile CEO John Legere is going to be commenting on this news later today. Stay tuned.
Thanks for the tip!
source:
USAToday
Recommended Stories