Yahoo releases an all-purpose Android app for personalized news, weather, sports and more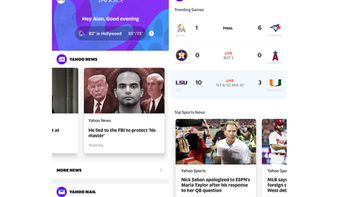 Yahoo has a number of specialized apps including Mail, Search, Newsroom, Weather, Finance and more. But now, Yahoo is offering one all-around app for Android users that provides more personalized information including news and weather. It also will let you know how your favorite teams fared overnight, and track your stocks; did that that hot tip make you enough cash to buy the
6.5-inch Apple iPhone
?
If you use the Google app, you have an idea what to expect from the new Yahoo app. No, nothing will ever return Yahoo to that time when it was considered the hottest property on the internet, but you still might consider this app useful since it could replace several of Yahoo's more specialized offerings.
At the top of the screen is a brief weather summary followed by several news stories that Yahoo thinks you'd be interested in reading. Yahoo Mail is next, and if you have your location data enabled, you might see coupons from local restaurants and stores. Yahoo Finance follows, with the prices of several indices and shares listed. Lastly, your daily horoscope is posted. Perhaps Yahoo should move that to a spot
above
the financial data.
If the available storage on your Android handset is running low and you already have the Google app installed, you just might want to skip this. On the other hand, if you have so much storage available that you don't know what to use it for (yeah, we're looking at you Mr. 512GB
Samsung Galaxy Note 9
owner), then click on the sourcelink below to install the Yahoo app.