New T-Mobile ad shows that Carly can ride her bike and rhyme at the same time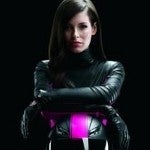 T-Mobile has certainly changed Carly's image over the last year. From
the girl next door to Motorcycle Mama
, the idea is to turn T-Mobile from a lower-priced alternative to the other major carriers into an edgy company with the latest technology. That is except for its lack of LTE. With
Sprint officially turning on its LTE service in a few markets on Sunday,
that leaves the nation's fourth largest carrier left to offer the faster 4G network.
Not that T-Mobile can't offer its customers some type of 4G service. The HSPA+ pipeline is the carrier's 4G answer until it
starts building out its own LTE network in 2013
. And T-Mobile's HSPA+
42Mbps
pipeline is so fast that in a recent test,
it actually was faster than Verizon's LTE service in 11 cities
. One thing you can say about the other carriers. They don't have their spokesperson zooming along the backroads of the country counting cell towers.
source:
YouTube
via
Phandroid