New Samsung video presents the evolution of the Galaxy S series
17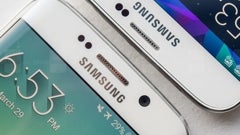 Samsung today posted a video that presents the evolution of its Galaxy S flagship smartphones, from the original Galaxy S to this year's
Galaxy S6
and
Galaxy S6 edge
(both of which went on sale last week).
As some of you may remember, the very first
Samsung Galaxy S
was launched in the first half of 2010. With its 4-inch WVGA (480 x 800) display and its single-core 1 GHz processor, the Galaxy S is obviously a low-end device by today's standards. Next year, in 2011, the
Galaxy S II
introduced a dual-core 1.2 GHz processor and a larger, 4.3-inch display, though the pixel resolution remained unchanged. The
Galaxy S III
(2012) brought us a quad-core processor and a 4.8-inch 720p display, while the
Galaxy S4
(2013) was the first in the series to offer a 1080p display (a 5-inch one, to be exact). Last year's
Galaxy S5
came with a 5.1-inch 1080p display, a water-resistant body, heart rate sensor, fingerprint scanner, and a 16 MP rear camera.
Finally, Samsung's current flagships, the Galaxy S6 and S6 edge, offer 5.1-inch Quad HD (1440 x 2560) displays, octa-core Exynos processors, 3 GB of RAM, up to 128 GB of storage space, and bodies made out of metal and glass. Unlike the regular S6, the S6 edge features a dual curved screen which differentiates it from all other smartphones out there.
You can check out Samsung's new video, titled "Galaxy S Series History", below: