New Samsung Galaxy Tab S commercials are here to suggest your tablet's LCD screen sucks
40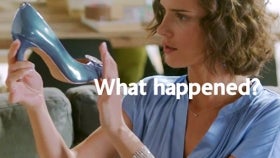 Samsung's
Galaxy Tab S 8.4
and
Tab S 10.5
are the world's first tablets to sport high-resolution Super AMOLED displays, so that's one of the first things that Samsung wants you to know about them.
Last week, Samsung unleashed a couple of Galaxy Tab S commercials that subtly
compared the new tablets to Apple's iPad
. Now, Samsung is back with two other Tab S commercials - which, once again, illustrate the superiority of Super AMOLED displays over LCD panels.
The first commercial is telling us that only Super AMOLED screens allow us to see "true colors" - because they display "the professional Adobe RGB spectrum", unlike LCD screens, which are limited to showing the standard RGB spectrum. The second ad suggests that the Galaxy Tab S line offers the best optimized displays, as they're 40% less reflective than LCDs, while also easily adapting to your surroundings. Both commercials can be watched below.
Available since late June, the Galaxy Tab S 8.4 and Galaxy Tab S 10.5 cost $399 and $499, respectively. Only the Wi-Fi versions can be bought for now.