New SMS scam snares 10 unwitting victims
5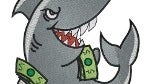 Consider this next story to be a warning from us so that you don't end up in the same situation as the ten victims in this sad case, who are out a pretty nice chunk of cash. These ten received a text message from an unknown number, threatening them if they did not immediately repay a debt that the SMS said that they had incurred with an
illegal loan shark
. The ten, who live in Singapore, arranged for the immediate transfer of funds totaling a combined $18,000 to bank account numbers left in the message.
The criminals threatened to splash paint or set fire to the victim's homes if they did not repay. And while the ten did make the payments, most of them
had never dealt
with a loan shark to begin with. This is a new scam that has been going around and since early March, 180 reports of this type have been made to the police. According to information obtained by
The Straits Times
, some of the information such as identification numbers, full names and residential addresses of some of the victims could have been discovered from relatives who did deal with loan sharks.
Meanwhile, the police are investigating and are telling people not to pass along personal information to strangers. The public is also being advised not to give in to demand for payments made through a text message. In fact, the best thing to do is simply to ignore texts from people that you don't know. And with the way that information zips around the world these days, a con that starts in Asia could easily make its way to the U.S. within days. We'd rather see your money spent buying the latest and greatest smartphones or tablets instead of giving in to illegal threats made by criminals, and we're sure you would too.
source:
AsiaOne
via
textually.org