New Nexus One videos reveal nothing of importance
This article contains unofficial information.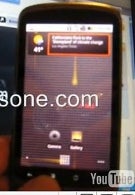 You would think that with all of the so-called Google Phones handed out to employees at Mountain View in lieu of a year end bonus, someone would be upset enough to spill the beans in a video. After all, while a $1,000 bonus is legal tender and can be spent anywhere, some professionals will not exchange services for a cellphone no matter how cool and hip it is supposed to be. It's as if all of the Google employees were imitating Hogan's Heroes Sgt. Schultz by acting like they "...know noth-ing." So instead of getting some videos with outstanding
insight
, we are treated to a clip of a Nexus One receiving a phone call, a video of the boot screen, and one other pointless clip. Is there one owner of the Nexus One willing to give us a meaty look at the device? Your country will be so proud.
HTC Nexus One Preliminary Specifications
source:
Phandroid