New Motorola Moto G appears in promo video before tomorrow's official announcement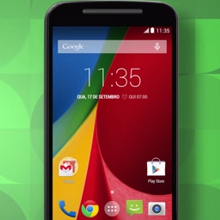 Motorola is showcasing its
new Moto G
and
Moto X+1
today behind closed doors, at a private event in Chicago, and it's only tomorrow, September 5, when the company will
unveil the two smartphones
for the whole world to see. If you just can't wait until tomorrow, a promo video of the new Moto G is now making the rounds. Originally posted by a retailer in Brazil, the video shows the Brazilian variant of the new Moto G. This doesn't have LTE connectivity, instead offering support for two SIM cards.
The new Moto G features a 5-inch display with 720 x 1280 pixels, 8 MP rear camera with LED flash, front-facing stereo speakers, quad-core Snapdragon 400 processor, and water repellant coating. Android 4.4 KitKat with "guaranteed updates" will be on board, and customers will be able to choose between a variety of colorful (and optional) Moto Shells to personalize the smartphone. Interestingly, the handset isn't called
Moto G2
in the promo video - it's simply referred to as the Moto G.
Just like the
first-generation Moto G
, the new one will certainly be affordable. We assume that prices for it will start at about $200. Until we have all the official details, check out the Moto G video promo below (and the images added after it, included here just in case something happens to the video):