New Moto X preorders start shipping from Moto Maker
13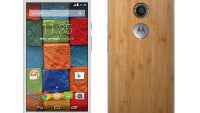 The new Moto X was announced on September 4th, and went up for preorder on September 16th (for the unlocked and AT&T models at least). When users purchased a Moto X on preorder through Moto Maker, it was said that the estimated delivery date for the device would be September 26th. Today, the first shipment notifications have gone out.
We assume that the notifications are going out to those who ordered first, because we ordered one on the 18th and still haven't gotten a shipment notice. A couple days ago, there was a leak claiming that the 26th would be the day that the Moto X would appear in Verizon stores, and add Verizon to the Moto Maker options, and we have to assume that is still accurate.
Anyone else out there getting a shipment notice for a new Moto X? If so, what were your design choices? We went with the cognac leather back, white front, and gold accents. Share your choices in the comments!