New LG and Samsung smartphones with flexible displays to appear in September?
16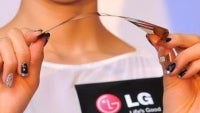 Has anyone ever thought what the sequels to the
Samsung Galaxy Round
and the
LG G Flex
could be like? If the latest rumors out of Korea are to be trusted, Samsung and LG are preparing another round of smartphones with flexible displays for September 2014.
The report is scarce on details, but it suggests that Samsung will finally brings its three-sided display to the market (check the video below), while LG will, once again, court spec addicts with a flexible QHD display of 510 ppi pixel density (which calculates to about 5.7 inches by diagonal). Keep a bag of salt nearby for this, as fitting so many pixels on a bendable OLED panel sounds implausible, given that last year, the technology was only advanced enough to support 720p resolution. A quadruple leap in just a year sounds like a wild bar story, but then again, we're only spinning rumors at this point.
It isn't specified whether the rumored smartphones will continue the Galaxy Round and G Flex series. However, there's a possibility that Samsung intends to launch two versions of its Galaxy Note 4, one of them sporting a curved display. If you want our honest opinion, diversifying the Note series' flagship device by memory and screen curve sounds rather exotic - at least if Samsung is to announce and release them together. Until we see some flex-tastic leaks of the Note 4, we're betting on the flat, regular style we know and love.
Yesterday, we heard that the Note 4 will be heading to mass-production very soon for an IFA 2014 reveal in Berlin. So flexible display or not, a successor to the Galaxy Note 3 is a sure bet at this point.
Recommended Stories