New Humble Bundle is out, offers six Android games on the cheap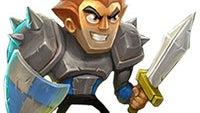 Last month, we shared with you our
tips on getting paid Android apps on the cheap
, and the Humble Bundle web site was on the list. It is an online store where one can buy packs of premium games on a pay-what-you-want basis along with bonus games and extra content available for those who beat the average price. What's more, a fraction of the proceeds go to charity, so each purchase makes the world a slightly better place.
Just hours ago, the guys at Humble Bundle released their latest pack of games that can be your for a fraction of their original cost. Little Inferno, Gemini Rue, AaaaaAAaaaAAAaaAAAAaAAAAA!!! for the Awesome, and Jack Lumber are featured in the bundle, along with Hero Academy and Anomaly 2 for those who beat the (current) average price of $4.06. Not too bad of a price when you think about it since buying these games one buy one will set you back over $25. Plus, the HB team is teasing us with extra games that will be added to the pack in a few days. Oh, by the way, the games run on not only Android devices, but on Windows, Mac, and Linux computers as well.
Humble Bundle deals don't last forever. You have less than two weeks to take advantage of the deal, so if you're feeling tempted, check out the video below to get an idea what these games are all about.