New Firefox Beta for Android brings new UI and Flash support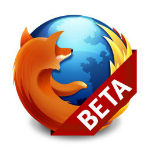 Earlier this month, Mozilla said that Firefox would be getting a
unified UI across all platforms
, and today, Firefox Beta for Android got a facelift and other improvements, so this may be the start of that promised unification. Although, if it is, it is a bit strange that mobile would see the new UI before any other platform, not even the Aurora (dev) channel for desktops has seen the new UI.
In addition to a redesigned UI, the new version of Firefox Beta is promising "significant" improvements in performance, which sounds great, but it has also become also as expected as the promise of generic "bug fixes" in each release. The browser also has a new start page, but maybe best of all is that it has finally added support for Flash.
Part of how Mozilla was able to up the performance and other improvements was by bumping up the minimum requirements for Firefox Beta. So, now instead of requiring Android 2.0 or higher, you must have Android 2.2 or higher. Of course, that still covers the vast majority of the ecosystem, so it shouldn't be a problem.
If you want the newest Beta version, it's available for free in the
Google Play Store
, and if you want the newest of the new, Mozilla does offer the Aurora channel for Android on
its website
.