New E-Sense technology could allow the blind to "read" touchscreen devices
5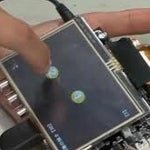 Imagine a blind handset user able to use a smartphone by
reading braille
on the flat touchscreen. Or imagine looking at a picture of a dog on your handset and feeling the fur on your fingertips as you move your fingers across the flat screen. A Swedish company called Senseg has a technology called E-Sense that uses tixels, or tactile pixels, that make your fingers feel things on a flat display. The tixels create an
electrical field
to make you think that you are touching certain things.
Others have tried to come up with this before, but have used vibration to create a tactile feel. While this vibration comes from under the screen, Senseg's technology works creating an electrical field
above the screen
. At this point, there is no information on whether or not E-Sense is feasible when looking at the cost of putting this technology into cell phone touchscreens. Senseg says that this process is
inexpensive
. The possibilities are endless as the technology could provide a breakthrough for those without sight who would love to have a smartphone that they can use. And while less important to mankind, there could be many other commercial uses for E-Sense including using it for video games or to make virtual QWERTY keyboards more accurate and finger friendly. So far, Toshiba has signed up as a partner.
We get the feeling that this is just the beginning for the technology and that we could be hearing a lot more about Senseg and E-Sense in the future.
source:
TheNextWeb