New 9.7-inch Apple iPad Pro features an embedded Apple SIM card
12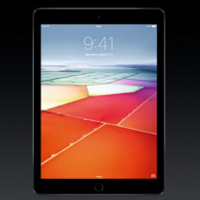 Last July, Apple and Samsung had one of their non-courtroom meetings.
The topic was the embedded SIM card
, and the developing standards for them. Embedding a SIM card to the logic board would eliminate the need for a slot on a device, and could open up room inside a phone or tablet for a larger capacity battery.
It also would allow device owners to quickly and easily swap to a carrier that supports the program. For example, in 2014 the Apple SIM came pre-installed on certain iPad models. Users could quickly change carriers to the one that offered the best plan at the moment, with no contract involved. Participating carriers included AT&T, Sprint and T-Mobile in the U.S., and EE in the U.K. That list has grown a bit, and now includes 8 carriers and MVNOs that offer service in 90 countries globally.
With the
9.7-inch Apple iPad Pro
, each and every unit of the tablet will come with an Apple SIM embedded onto the device's logic board. If you purchase the product directly from Apple, the e-SIM will be enabled and active. If you make the purchase from a carrier, the e-SIM will be disabled or locked.
Will we see an embedded Apple SIM card in the
Apple iPhone 7
? A few years ago when Apple was considering the idea for its latest iPhone model at the time, European carriers threatened to lower their subsidies on the iPhone if Apple went through with the plan. That killed the plan, although the tech titan might want to try it again.
Apple could use the e-SIM on the next version of the Apple Watch, which is supposed to be a stand-alone model that won't need to pair with an iPhone. As you might know, Samsung employs an e-SIM on the Samsung Gear S2 smartwatch.
source:
AppleInsider