Netizine looks to free magazine publishers from the app market with HTML5 web-app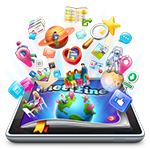 Sometimes you have the right product at the right time. And if Netizine can execute on their vision, they may have hit a veritable gold mine that could change magazine distribution for tablets. At a time when Apple is struggling to
control printed content
sold through its App Store, Netizine is offering up the promise of an HTML5-based web-app platform that would let publishers distribute their content without the need for native apps sold in Apple and Google's respective app markets.
Not only could content providers skip app store charges, but Netizine allows them to build a social network right into their content. That's important to publishers, because it means they are the ones that can collect personal information from you, rather than letting the Apples, Googles, and Amazon's of the world keep it to themselves.
What would this mean to you, the consumer? For starters, it should hopefully mean a much larger number of print magazines migrating to your favorite tablet. It also means that app markets themselves will start to face some price competition. For Android this might not be as jarring – there are already several competing app stores – but for Apple, Windows Phone, and RIM it will introduce the web app as a serious competing sales model.
Of course
all of this depends on the HTML5 implementation – if it feels inferior to native apps, then consumer will ultimately reject it
. But if they can make the web-app experience feel as snappy and interactive as a native app, Netizine may just have a revolution on their hands.
source:
Netizine
via
TechCrunch