NYT: Apple shoots for a 100 million subscribers to its new $10 music streaming service
22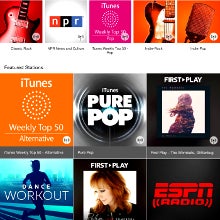 Apple reinvented the music business with the launch of iTunes, putting a slow end to the CD industry the way CD put an end to the tape and vinyl era. It was just a different venue to enjoy music, but today the company will be somewhat late to the party for the latest disruption - streaming music directly.
Anonymous New York Times sources are confirming that Apple will be announcing a
new streamer
to compete with the likes of Spotify, and plans to sign up no less than 100 million subscribers globally, though it's not clear in what timeframe. The new tune delivery service will cost $10 a month, with
the first three months free to test the waters
. The existing Beats Music streaming service users will be transferred over, while when shopping for songs or albums on iTunes, you will also be given the option to subscribe to the new Apple streamer. The existing
iTunes Radio
mixer, on the other hand, will be boosted as a live station with guest DJs from the ranks of Zane Lowe,
Pharrell, Drake
, Muse and even the omnipresent David Guetta.
Meanwhile, Sony Music's CEO Doug Morris
confirmed in an interview yesterday
that Apple will indeed launch a new music streaming service at WWDC, so we will be all ears today, and relaying to you what is happening.