NYT: Apple looked to buy a stake in Twitter over recent months; talks are not active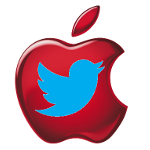 "Apple doesn't have to own a social network But does Apple need to be social? Yes."-Tim Cook, Apple CEO
Tech giant Apple and social networking star Twitter recently held talks
in an attempt to have Apple make a strategic investment in the messaging firm
. No deal could be worked out and there are no talks currently going on between the two. The story originated in the
New York Times
which said that Apple's lack of a toehold in the social networking scene led to the talks. The Cupertino based firm sees the importance of social networking and wants to be involved.
Apple was said to be considering an investment
totaling in the hundreds of millions of dollar
s, which would have valued Twitter at $10 billion. In the most recent round of financing, the messaging firm was valued at $8.4 billion. All of this information came from sources wishing to be anonymous which is expected considering the privacy of the talks..
There is nothing going on at the moment between Apple and Twitter. But will talks resume? Apple has integrated Twitter into iOS and with $117 billion in short term investments, Apple could easily afford to take a stake in Twitter and instantly have a larger presence in social networking. Twitter would get the cash, deeper integration into future versions of iOS and the satisfaction that would come from getting financial backing at this stage from the
world's most valuable company
. It would drive Twitter's valuation higher in the face of Facebook's dropping stock. The company has 140 million monthly visitors who send out messages around the globe relating to their personal life, news and whatever comes into the writer's mind.
"Those guys are a great partner. We think of them as a company that our company looks up to"-Dick Costolo, Twitter CEO
Twitter might not need the money at this stage.
Dick Costolo, Twitter's chief executive,
says it has "
truckloads of money in the bank

,"
estimated to be $600 million by some familiar with the company's finances. The money comes from $1 billion in financing raised by Twitter over the years, and more importantly, from advertising revenue. An IPO could take place within the next year.
The Wall Street Journal has repeated the Times story with a major difference as to the timing of the talks. The business paper says that Apple and Twitter had held the conversations about Apple making an investment
more than a year ago
. With the upcoming
iOS 6 offering deep Facebook integration
for those using Apple's mobile devices, some are going to see that as a sign that the tech giant has decided to work more closely with that social networking giant. But
Facebook is rumored to be developing its own smartphone
, which would make it a competitor to Apple, unlike Twitter, which does not have such plans.
Neither Apple or Twitter would comment on the story.
source:
NewYorkTimes
,
WSJ