NYPD Blue: Apple iPhone and Apple iPad thefts on the rise in the Big Apple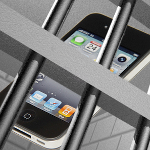 Frighteningly reminiscent of the string of murders committed
just for a pair of Air Jordan sneakers
, a crime wave in New York City has
revolved around the Apple iPhone and Apple iPad
. Thefts involving those two devices are up 44% in the Big Apple so far this year. As of April 15th, there were 1,196 such thefts reported to the NYPD vs. 831 as of the same time last year. One police source compared walking around with the iPhone or iPad in the subway with a public display of a wad of cash. "
It's the equivalent of holding hundreds of dollars in your hand
," the source said.
The most recent high-profile case in New York was the robbery of an Apple iPhone belonging to 26 year old chef Hwang Yang who was murdered. While his iPhone was taken by the robber, Yang's wallet was not touched. NYPD is responding by
using undercover decoys carrying the devices
. With this method, 24 year old Mustapha Matthews was charged with grand larceny and possession of stolen property. Matthews allegedly was caught removing an Apple iPhone from the backpack of an undercover decoy officer on an uptown 4 train on Tuesday. Back in December, 47-year-old Raymond Rodriguez was busted after allegedly removing an iPhone from a decoy officer's bag.
source:
NYDailyNews