NYC Apple iPhone thief turns himself in after taunting selfie makes front page news
38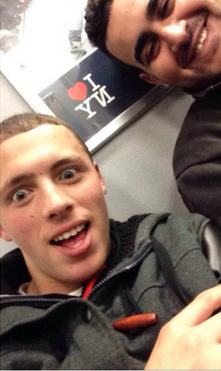 Khayyam Alexander (L) turned himself in for stealing the Apple iPhone 5 that this selfie was taken with
16-year old Khayyam Alexander turned himself into the police on Saturday, after he stole an Apple iPhone from a 14-year old, and sent X-rated selfies of himself to the victim's mother. James Pugliatti had his
Apple iPhone 5
swiped by the thief at a Manhattan night club on April 17th. Alexander and his friends took selfies of themselves riding on the subway, and also used Snapchat to send taunting messages to Pugliatti's pals.
But it was a XXX-rated sext message sent to Pugliatti's mother that ignited her fury, sending her to the cops on April 27th. Meanwhile, the widely-read New York Post featured the subway selfie on its front page on Saturday, prompting Alexander to turn himself in. For the record, he is the light haired kid on the left.
While Pugliatti had not enabled the "Find My iPhone" app, which could have helped cops track down his handset, law enforcement officials have been
trying to get phone manufacturers and carriers to put a kill switch on handsets
so that they can be remotely shut down if lost or stolen. These officials blame manufacturers, who make money on replacement sales. And carriers are said to profit from selling premium handset insurance to those scared of having their phone stolen.
By the way, in case you're curious, Alexander was charged with petit larceny and criminal possession of stolen property. His partner has yet to be found.
source:
NYPost