NTT DoCoMo launches LTE-Advanced in Japan, fast enough to cook your dinner at 225mbps
6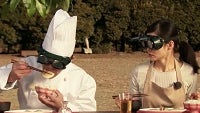 Late last year, NTT DoCoMo decided to make a play on a famous Japanese program that is devoted to fast and easy cooking recipes, conflating that to the speed of the carrier's expanded LTE coverage.
The result: cooked shrimp
.
Well, DoCoMo has started aggregating that spectrum and has commercially rolled out LTE-Advanced, effectively doubling the available data speeds, up to 225mbps.
What is the best way to spread the word about the new service? Well in Japan, nothing gets the message across like food, so why not try a new super-fast recipe? On the menu this time, gyoza. By illustrating the blending of ingredients in much the same way spectrum is aggregated for LTE-A, we can see how this makes for a tasty meal.
Another facet that is highly enjoyed in Japan is baseball. After smashing the ingredients together, it only makes sense to catch, and press the dumpling into the desired shape. It is all in good fun (especially with the selected music bed). NTT DoCoMo also put together a "making of" compilation, and it turns out it was harder to catch that dumpling than you might think. You are not alone if the ad makes you yearn for ultra-fast data, or dinner. Time to eat,
itadakimasu!