NSA Whistle-Blower Snowden charged in NSA surveillance case
28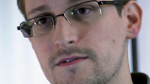 The U.S. Justice Department has asked Hong Kong officials to detain NSA whistle blower Edward Snowden after sealed criminal charges against him were filed. One anonymous source said that the charges filed were for espionage, theft and conversion of government property. The complaint was filed in the Eastern District of Virginia, home to Snowden's former employer, Booz Allen Hamilton. Snowden flew to Hong Kong last month in possession of government papers that he was able to obtain through his position as a systems analyst.
Prosecutors have 60 days to file an indictment against Snowden and then seek his
extradition
from Hong Kong. If the extradition battle makes its way to the Hong Kong's highest court, as seems likely, the process could take months. An extradition treaty that the country shares with the U.S. has an exception for offenses of a political character, which is likely to make this a long running battle. Snowden faces a maximum of 10 years in prison for each charge.
The whole affair started earlier this month when secret court documents were leaked, showing that
the NSA had requested data about millions of calls involving Verizon customers
. More information leaked about companies like Google, Apple, Microsoft, Facebook, and Yahoo. All five companies
denied their involvement in the PRISM program
.
On Friday, published reports out of the U.K. said that the GCHQ spy agency in Britain was tapped into the fiber-optic networks that carry phone calls and internet traffic and is turning that information over to the NSA.
source:
USAToday
via
Yahoo
Recommended Stories