NRA gives FCC chief Ajit Pai a rifle for repealing net neutrality
66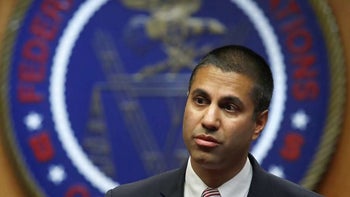 On Friday, FCC Chairman Ajit Pai was given a rifle by the NRA during the Republican love fest known as the Conservative Political Action Conference in Oxon Hill, Maryland. So just what did the Trump-installed FCC chief do to receive such a gift? Pai was given the
Charlton Heston Courage Under Fire Award
for repealing the net neutrality rules put in place by President Barack Obama back in 2015. Now deceased, Heston was a past president of the NRA. The award given to Pai is a Kentucky long rifle that will stay at the NRA's museum in Fairfax, Virginia. The weapon was not allowed on stage during the ceremony.
Net neutrality prevents carriers and ISPs from charging consumers more for certain content. It also prevents a carrier/ISP from favoring one content provider over another by throttling data streams. Some argue that repealing the rule actually benefits consumers. For example,
AT&T recently expanded its "Sponsored Data" program to cover pre-paid subscribers
. With this plan, AT&T subscribers can view as much streaming content as they wish from DirecTV, UVerse, and Fullscreen without using the data they pay for each month. All three are owned by AT&T. However, the repeal also means that wireless operators will be able to prevent consumers from viewing certain content and websites.
"Some people urged me to go for sacrifice bunts and singles and try to nibble around the edges — make some minor changes. But I don't play small ball."-Ajit Pai, chairman, FCC
On Thursday, 22 state attorneys general sued to block the repeal,
which is scheduled to take place on April 23rd
.
source:
Reuters