N.O.V.A. Legacy lands on Android, reviving the AAA sci-fi shooter series
9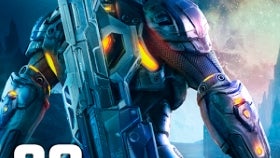 First-person shooters might be a bit awkward to play on a touch screen, but we must admit that for the FPS enthusiasts, there aren't any better options for some shooting on-the-go. And not many companies are on par with Gameloft, when it comes to solid mobile shooters.
Now, Gameloft has launched a new installment of its pretty successful N.O.V.A. franchise, called N.O.V.A. Legacy. The game is a AAA sci-fi first-person shooter that claims to be a tiny 20 MB download. In reality, it's closer to 25 MB, but that's still pretty good for what it offers.
Gameloft claims it based the gameplay on its currently-more-popular Modern Combat series, while also retaining the N.O.V.A. spirit. The game is inspired by the first in the series, but it boasts new graphics and sound, as well as shorter levels for better casual play. It offers a campaign of 19 singleplayer levels, as well as real-time multiplayer deathmatch with up to six players.
Additionally, Gameloft has spiced up the FPS experience with some weapon-crafting mechanics. These will allow you to customize your loadout to your own personal preference.
You can get N.O.V.A. Legacy through the Google Play source link below.