N.O.V.A. 2 HD is now available in Android Market for $6.99
3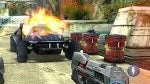 With mobile gaming exploding at a rapid rate, it's only natural to have some high expectations with certain recognizable games. We had the fine opportunity of
reviewing Gameloft's N.O.V.A. game a while back
, which was an exciting first person shooter, but now we're now just finally seeing its successor arriving on the scene.
Available now in the Android Market for
$6.99
,
N.O.V.A. 2 HD
is the sequel to the popular game that's set in a bloody civil war fought between the central government of the Terran Orbitals and the Human-Alien Alliance. Naturally, there's plenty of action to be experienced by yourself, or with others through its multiplayer online games. Additionally, it's just one of those titles that seem to come together with its action packed game play, tight controls, and graphical eye candy to keep you engaged on the go.
Considering that it's only $6.99, that's pretty impressive when you compare it to the cost generally associated with portable console games. Either way, we're certain that you'll be killing plenty of time between your work shifts with this one.
source:
Android Market
via
Android Authority