Mystery Made by Google device surfaces at the FCC
1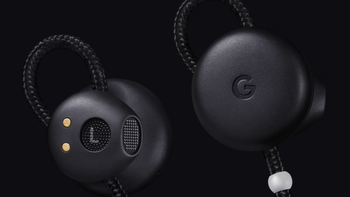 Google has a new device up its sleeves and it is a wireless Bluetooth device with the model number of G022A. That information was
discovered on the FCC's website
(via
9to5 Google
) and the model number suggests that this is a Made by Google item. In fact, the G022A number comes after the
Pixel 3a
(G020A), the Google Clips wireless smart camera (G015A), and
the
Pixel 3
(G013A).
The device will have an FCC E-Label and uses Bluetooth LE (Low Energy) connectivity. Perhaps Google is planning on introducing a new version of its wireless Bluetooth powered Pixel Buds; a sequel could be due since the original model was unveiled in 2017 along with the
Pixel 2
and
Pixel 2 XL
. But that would be sheer speculation on our part. Another possibility would be a fitness tracker. Either would fit with the wording in the FCC documentation that mentions how the FCC E-Label information can be accessed through the use of a "companion app." Also, something to keep in mind is that the files shown on the FCC site do not mention Wi-Fi connectivity, which rules out a smartphone, smartwatch or a tablet.
Google requested confidentiality with the FCC for a period of six months, which takes us to November. This prevents us from seeing internal and external photos of the device, test setup photos, and the user manual.
A new version of the Pixel Buds sounds like a good bet.
Apple recently released a sequel to its popular wireless Bluetooth AirPods
, Samsung replaced the Gear IconX with the Galaxy Buds and both Amazon and Microsoft are getting into the space. The current version of the Pixel Buds costs $159 and is compatible with both Android (5.0 or higher) and iOS (10.0 or higher). It can access Google Assistant (Android 6.0 or higher) and control streaming music with a tap. With a Pixel phone, the accessory can provide real-time language translation. The Buds run for five hours on one charge and since the carrying case offers multiple charges, you can use the Pixel Buds all day.
If you're a fan of the products in the Made by Google line, you now have a mystery to think about for a few months.

Mystery Made by Google device uses Bluetooth connectivity